In the last couple of years I've waited until the end of the year to put together a list of things I've loved from the preceding twelve months.  I probably shan't be doing that this year, because I'll have a new book out in January and lots to say about it.  So, in the meantime I have a few things I'm itching to recommend to you, things I've recently enjoyed that I hope might tickle your fancy too.
I discovered Nobrow Press after a trip to the fabulous Gosh Comics in London.  I'd just been to see the Afghanistan exhibition at the British Museum, and Gosh had Nobrow's Bento Bestiary featured on their shelves.  Ancient History + Comics + Bestiary = A Super Day Out (and I know I couldn't get much geekier – just you wait until later in the blog when I start talking about video games).
Nobrow publish some beautiful hardback comics.  If you were raised on Ladybird books and the like, holding these A5 delights in your paws will give you a sweet nostalgic kick.  Via Nobrow's website I came upon the intriguing Everything We Miss, by Luke Pearson.
The entire book is coloured in the shades of grey and orange you see here, which give it a dead-of-night tone befitting its dreamlike subject matter.  We follow the misfortunes of the hapless Will, who we watch over as his relationship unravels.  Meanwhile, all around but unbeknown to him, beautiful mysteries are taking place.  You'll see what I mean from the preview on Luke Pearson's site.  The hairball aliens were a favourite of mine.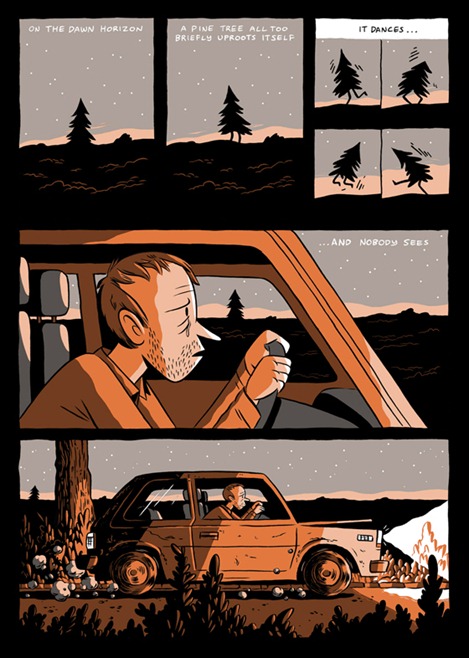 This is a comic to read and reread.  To me, it has a lot to say about the myopia of day-to-day life, with the background magic – the things that are overtly missed – directly equivalent to the elusive magic that can occur between two people.  It also showcases how peculiarly susceptible men are to this insensitivity.  Indeed, for those of us possessing a Y chromosome, the comic provides plenty of tooth-paste smearing, milk-spilling, toilet-bowl-missing moments that are all too depressingly familiar.  Hopefully, those of you who got two Xs from the genetic lottery will find these moments touching, but Pearson delivers them with such bathos that I'm sure you'll be laughing either way.
Pearson has also provided the artwork for an interesting little browser-based game called The End.  This from the game's blurb: "The game takes the player on a metaphysical journey, recording their interactions in the world to reveal their attitudes towards mortality. These views are presented alongside their friends and some of the most important thinkers of our time, such as Gandhi, Descartes and Einstein."  You also get to make yourself look funky.  Here's me, stuck at the second part of level 1.  If you play it and get past this, please write to tell me how.  I've been pulling those switches and playing with shadows all morning.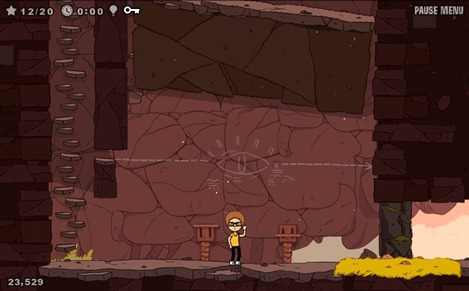 Best of all, Pearson has some new work about to come out.  Yesterday, Nobrow previewed Hilda and the Midnight Giant.  It looks thoughtful and adorable, and I can't wait…